Journey to the West – Part 4 : Fox Glacier
Our sole purpose of taking this journey to the west was to see the infamous ice glaciers at Fox Glacier.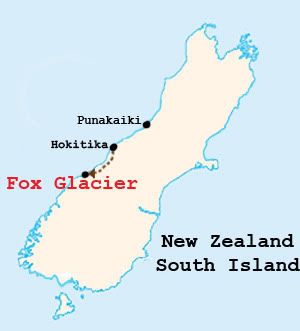 Fox Glacier is 160km from Hokitika and is one of only three ice glaciers in the world that co-exists with a sub-tropical vegetation landscape beside it.
One cannot help but marvel at the ridiculous way there is a giant massive block of ice right next to tall trees and wet grounds, because ice glaciers are usually found in super cold climates.
We did a 4 hour trek to see the glacier. And it was a killer.
Our legs almost broke and we almost collapsed from exhaustion after climbing 700 steps.
Despite the hard work, we loved the walk.. the fresh air.. the heights.. looking out to the beautiful landscape.. it was all worth it, especially by the time we hit the ice.

This was an experience of a lifetime and we're never going to forget it.
Related Posts (YARPP)